Celebrate Young Creatives
Soul Sonshine has an initiative to positively impact children by recognizing and applauding their accomplishments. To that end, we are undertaking an initiative called "Celebrate Young Creatives" to publish a book (or series of books) featuring the poems, stories, and artwork of students from preschool through grade 12.
We know that all kids have a seed of creativity. We want to cultivate that potential before it withers away. Our application and rules explain the initiative more fully.
Click below to complete an electronic version of the application on your browser.
We look forward to seeing your offspring's works!
Books Published by Soul Sonshine
Books Published by Soul Sonshine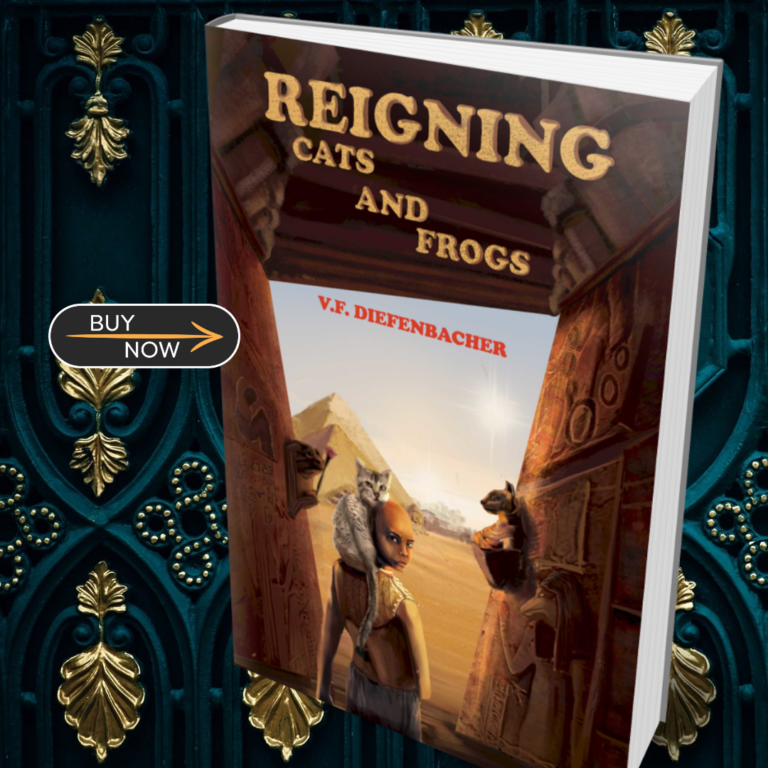 It's 15th century BC, the Biblical Exodus period. Cats, frogs, and other animal gods reign in Egypt. Thirteen-year-old Kafele, an Egyptian boy, is about to experience the Biblical plagues. Can he unravel the myths and stories and tap into the true source of power before it's too late?
"Captivating and compelling! In this fascinating novel, experience the biblical account of the ten plagues that took Egypt from glory to ruin. Valerie Diefenbacher's artistic and intriguing writing style will have you turning pages to the very end!" —Carolyn Lichty, former educator
About the Author —
V.F. Diefenbacher is a debut book author who spent 19 years homeschooling her four children. She lives with her husband in southern Ontario, worships at Grace Mennonite Church, trains puppies, and hosts summer campers at their HipCamp site.
Curiosity and Encouragement Change the World
What child can thrive without curiosity and encouragement?
Long before children can read and fully understand these words, they experience them and will readily understand from the book's storyline what these concepts mean.
Curiosity and Encouragement are cats. Curiosity is different from other cats and wants to change the world. He tries and fails, but then Encouragement shows up. With the help of Encouragement, the path to making the world a better place becomes clear.
About the Author —
Curiosity and Encouragement Change the World is the first book in the Passionate Epic Tales (PET) series, written and illustrated by Steven Eurioste, an illustrator-turned-author. Steven hopes to inspire love in the world with his story. He wrote and illustrated this book during his darkest hours, and with the book's birth, hope has emerged. Curiosity is modeled after Milo, who doesn't want to change the world, but he is always curious. Steven's next book will be out soon, with many more books to follow.
Dedicated to all the future geologists of the world
This fun ABC book is a perfect way for your little rock-hound to learn about crystals, gems, and minerals while learning the alphabet! Written by two sisters who have been collecting gems since they were little, the book grew out of their love for this hobby, which they share generationally. They hope to inspire other families to also love these beautiful gifts given to us by Earth.
Catherine Heaslip was born and raised in the North Shore of Chicago. She now lives in South Florida with her two dogs, her husband, and their almost two-year-old son, who inspires her to write children's books. She loves spending time with her family, and collecting crystals.
Elizabeth Long was born and raised in the North Shore of Chicago. She now lives in Northern Illinois with her soon-to-be husband and their dog. Elizabeth has a BA in Sociology
Wheels of Injustice:
Saving My Child from the Child Savers
by Susan Louise Gabriel
Six weeks into a blissful honeymoon, life turns into a nightmare when Susan's 9-year-old daughter is taken away and her husband is falsely accused of child sexual abuse.
Dragged under the churning wheels of the child protection system, Susan is given a choice: cooperate in prosecuting her innocent husband or lose her daughter. When the couple doesn't give in to pressure, Susan loses custody of her daughter, and her husband is charged with a felony that carries a 16-year prison sentence.
Wheels of Injustice is a curtains-pulled-back true account of the out-of-control child protection system of the 1980s and the victims who risked everything to expose its egregiously unjust acts and reform it.
About
the author —
Susan and her husband live with their dogs in the country outside a small town in Texas. Susan is the CEO of Soul Sonshine, LLC, a Christian publishing company that seeks to inspire others and help authors give their books a shining start.